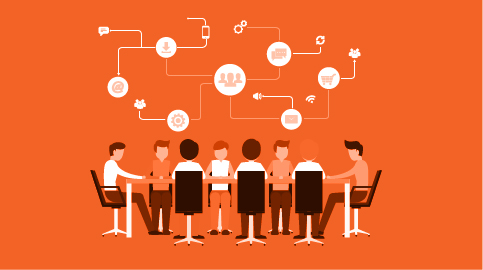 How can my sales team benefit from Marketing Automation?
11 Jan 2018
Simply put, your sales team can find more prospects and develop them into qualified interested leads to convert
Internet searches have provided buyers with a simple way to find and vet suppliers. Such that 90% of your potential customers prefer to contact you when they are ready, rather than the other way around. This change in buying preferences means that businesses need to be investing in methods that enable their marketing and sales teams to connect with potential customers, to develop virtual relationships that can automatically mature into physical sales conversions.
Below is an example of what content buyers look for and want from their prospective suppliers online.
Remember that 70% of the buying decision has been made before any contact with your sales rep and customers now want and expect to be educated by you. That means you need to be sharper at interpreting what they want, how they want it, and then to provide valuable content that gains their trust and respect.
In turn, sales teams need to spend their time on leads that are most likely to move forward, leading to greater productivity and more accountability.
Marketing Automation software is a 'sales enabler' that can have a profound and lasting effect on your overriding sales performance and achievements.
Apart from the fact that it eliminates the need for cold calling, shortens the sales cycle, eliminates wasted time spent on following up unqualified leads, automates repetitive tasks like releasing topical blogs, workflows and dynamic content, at important touch points, it also generates more sales-ready leads than most other digital marketing tactic.
One of the biggest issues in B2B sales is lead response time. With Marketing Automation, this is no longer a risk
Research confirms that nurtured leads close faster and generate larger deals. That's good news for your sales team.
Marketing Automation has transformed the role of the sales person, and while your sales team still requires the basic skills to close a sale, their job is made much easier and simpler with a MAP (Marketing Automation Platform). Look at the example below of a sales person's tasks pre and post Marketing Automation. You can see that a lot of the awareness, consideration and sales qualification stages can now be done automatically by the marketing team. As noted, this enables the sales team to focus on closing leads that are more likely to convert.
When a lead displays strong buying signals, it's passed to the sales team to close
Marketing Automation platforms such as SharpSpring provide your sales team has real-time access to a visual display prospect via the 'life of a lead' page. This customer intelligence dashboard, shows you what leads are interested in, where they've been on your website, how they came to your website and vitally their lead score based on their present interest level, website tracking alerts, etc.
Open communication and transparency across departments
Aligning sales and marketing activities can be difficult. Today's modern business needs to create processes, systems and a general environment where teams interact, share intelligence and work together to produce results that benefit your bottom line.
A MAP provide this bridge, it encourages openness and honesty with lead sharing, nurturing and scoring, so that all parties know exactly what is happening and can play their part in closing the sale.
But it's the ability of a MAP to reach out with personalised content, at the right time that makes it so effective at leading prospects down the sales funnel.
Perfect is a SharpSpring Platinum Partner and leading Customer Acquisition Agency specialising in Sales Lead Generation, through Marketing Automation. If you find our blog interesting then please take 2 minutes to make contact, so you can start benefiting from our experience and ideas.