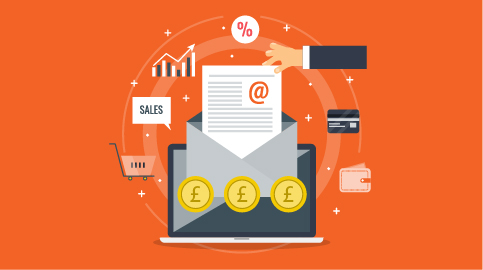 Is Marketing Automation a costly investment?
22 Jan 2018
SharpSpring is highly affordable in comparison to other automation platforms
If you take just one action from this blog post, then make sure you download our Automation Comparison Tool by clicking the below image. This compares the top 6 Marketing Automation platforms and will give you an indication of the costs you will pay to use Marketing Automation software in your business.
If you want more advice, then please read on…
The suite of tools that Marketing Automation platforms equip today's ambitious B2B companies with, ensures that they can see their sales leads visiting their website at the earliest possible point in the buying process, and then track the life of these leads continuously, through to closing the sale.
80% of Marketing Automation users secure an increase in the number of leads. 77% indicate an increased number of conversions too*
Is it costly? Absolutely not! We're SharpSpring Platinum Partners and you pay us the amount or less than direct from SharpSpring. The software starts at just £375/month plus VAT. It has been designed with affordability in mind and broken down into reasonable monthly payments, rather than one upfront fee.
This allows your business to start converting anonymous visitors to real people on your website from day 1, and building automation processes that start to turn these visible prospects into leads that you can nurture down your sales funnel, building trust along the way.
As per the above stats, by 2020, customers will manage 85% of their relationships without talking to a human! Customer expectations, demands and buying habits have adapted to new technology and the digital processes now on offer. Think about retailers that offer same day delivery, holiday companies that take your booking without you even speaking to a person, the list goes on, people adapt, expectations adapt, businesses need to adapt.
Today's buyers just expect information instantly, and their delivery not much later after that. They're using the internet to control much more of the purchasing process. To not invest in techniques that respond to buyers wants, needs and how they buy, is probably (if not definitely) going to cost you more in the future.
Drive more leads, convert them and optimise your ROI
How does the automation secure a better return?
Firstly it captures detailed digital intelligence about website visitors – about prospects you never knew existed.
Using features like dynamic forms that capture different visitor details each time they visit your website, segmented 'smart lists' based on visitor behaviours can be created and corresponding email campaigns automatically launched. By providing valuable content, businesses can establish a level of understanding and trust with these prospects, and start to nurture and encourage them along their sales funnel, until they become sales-ready.
It's not just about money. It's about time and resources too
The level of insight you will have allows you to design dynamic content and campaigns that respond to a prospect's unique requirements. All content is automated and relieves your sales and marketing teams of repetitive, costly tasks.
Figuring out the value and the cost of marketing efforts is often difficult – and it often gets overlooked
Marketing Automation is one of those processes that is easy to analyse.
Within the tools provided by SharpSpring, you will be able to see the actual life of the lead, when they first visited your site, where from, what products and services did they engage with etc, analyse how many prospects you have converted, over what time period, etc.
That means you can refine, adapt and respond to successes and failures so that you can build an even more successful platform for growth.
Perfect is a SharpSpring Platinum Partner and Leading Customer Acquisition Agency specialising in Sales Lead Generation, through Marketing Automation. If you find our blog interesting then please take 2 minutes to make contact, so you can start benefiting from our experience and ideas.
* VB Insight, 2015