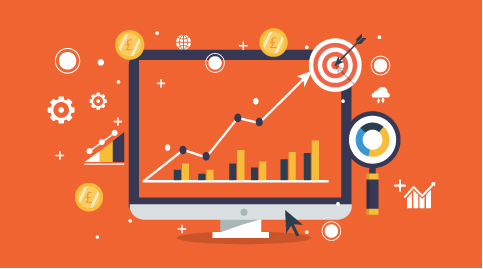 4 Ways to Boost Sales with Marketing Automation
26 Apr 2018
Everyone wants to boost sales for their business. It's one of the main objectives companies have when undertaking any form of marketing along with increasing revenue.
To achieve this you have to ensure that your sales and marketing efforts are working together. This relationship helps capture customer data and nurtures leads until the final sale.
Marketing Automation helps your sales and marketing teams work together. And it's designed to enable your sales team to increase their sales by providing them with more sales-ready leads. You also get prospect intelligence so you can connect with warmed-up leads, rather than chasing vague hopes.
Marketing Automation removes the necessity for your sales team to perform repetitive follow-up calls and marketing tasks. So this means they can focus on following up prospects that are ready for contact and work towards closing the lead.
According to Marketing Sherpa, 79% of marketing leads never convert into sales, this is due to a lack of lead nurturing.
Marketing Automation makes lead nurturing a simple, manageable process. Research shows it can take between 7 to 13+ touches (or reminders) to generate sales-ready, qualified leads. Email automation can increase the number of touches with each lead over the course of the sales journey.
Let's take a look at 4 ways you can boost sales with Marketing Automation.
1. Use Lead Scoring to Deliver Sales-Qualified Leads
Determining when a prospect is ready to buy can be difficult, but Marketing Automation allows you to score leads more accurately depending on the actions taken or not taken by a prospect. Marketing Automation tracks visitor behaviour, this tells you what prospects are looking at and how long for. This data along with other demographic data will help you determine whether a lead fits your buyer profile.
Using lead scoring to qualify sales leads shortens the sales cycle and helps boost sales by ensuring your sales team aren't wasting time on unqualified leads. This means they can focus time on closing leads that are ready to purchase.
2. Segment your Leads
Segmenting your leads improves your targeting capabilities and helps push leads to become sales-ready much quicker. The impact of automated messaging can be increased by segmenting your leads by:
● Industry
● Role
● Company size
● Position
Segmenting leads and lead scoring help to create rich customer profiles. These facilitate marketing and sales functions and maximise the impact of your Marketing Automation.
3. Personalisation with Marketing Automation to Boost Sales
Research by Accenture found 75% of consumers are more likely to buy from companies that call them by their name, make product recommendations based on past purchases and know their purchase history. Using behavioural and demographic data gathered by Marketing Automation, you can provide visitors with content that's suited to their interests and activities.
Marketing Automation can help you give your customers the personal touches they require to make the decision to purchase. You can also reduce the time spent on manual tasks, increase time spent on your website and boost sales.
4. Nurture Sales with Automated Emails
Automated emails are triggered based on the actions taken by a prospect. They are a seamless way to sustain a conversation with prospects and move them along the customer journey to become customers. Your emails should be based on the attributes, interests and actions of the recipient.
Your automated emails should always seek to address the needs and concerns of the prospect to ensure they keep moving along the customer journey. Sending relevant emails based on actions taken and the prospects interests and needs is a great way to nurture leads and boost sales. And as it is automated it reduces the time your sales team needs to spend contacting prospects.
Request your free SharpSpring Demo
Why not see how SharpSpring could benefit your business with a free Demo? Learn how SharpSpring works, what it can do, why businesses need it, how the different features and functions work, what it costs, and much more. This won't cost anything, just 20 minutes of your time, in return, you'll be truly amazed by what Marketing Automation will do for your business.
Perfect is a SharpSpring Platinum Partner and Leading Customer Acquisition Agency specialising in Sales Lead Generation, through Marketing Automation. If you find our blog interesting then please take 2 minutes to make contact, so you can start benefiting from our experience and ideas.