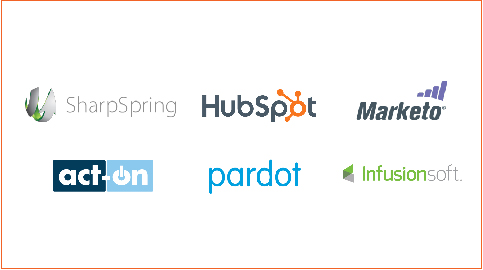 A Review of the Top 6 Marketing Automation Platforms
22 Feb 2018
Compare brands, check out features and then make a balanced decision
There are a number of key players in the Marketing Automation Platform software market. These include: SharpSpring, Marketo, HubSpot, InfusionSoft, Pardot and ActOn. There are many others, of course, but these are recognised brand and market leaders.
How do the big 5 compare?
But how do they really compare? To help we've prepared a summary comparing important factors like price, reviews, ratings etc, to give you a better understanding of what you are investing in.
To download a copy by clicking on the image below.
Remember when you are comparing systems always look at:
Price
Most of the big 6, with the exception of SharpSpring, charge an annual fee, often required upfront. With SharpSpring you can pay monthly, based on a 12-month contract.
Reviews
Always read through reviews and make sure you take note of any relevant comments or projects completed similar to your own.
Features
Examine features in detail to make sure you are comparing like for like. Look at things like: CRM integrations, reporting tools, ie: open rates and click through rate tracking etc, segmentation abilities, social media integration, how to import lists of contacts, etc.
Why not organise a demo – online or in person?
The more you read online, the more you will understand what different brands and systems provide and can achieve.
When you are satisfied that you know enough and have thought through your Marketing Automation Strategy, request a demo (online or in person), or perhaps attend a webinar so that you completely understand what Marketing Automation can do for your business.
Define your strategy and stick to it!
Finally, outline exactly what you need from your automation solution, and choose a provider with these features.
Don't go outside of your budget, and don't get sidelined by software and features that you know you probably won't use. Focus on your strategy and which systems can best help your sales and marketing teams to perform better.
Remember that any system that you choose needs to be powered by valuable content that your customers both want and demand.
With 70% of the buying decision being made before any contact with your sales rep, and customers having more of a thirst for content to fuel their decision-making, it's important that you invest in the right system to take things forward, and that builds trust and confidence in your brand.
Marketing Automation – fuelling your future growth to an unprecedented level
Perfect is a SharpSpring Platinum Partner and Leading Customer Acquisition Agency specialising in Sales Lead Generation, through Marketing Automation. If you find our blog interesting then please take 2 minutes to make contact, so you can start benefiting from our experience and ideas.