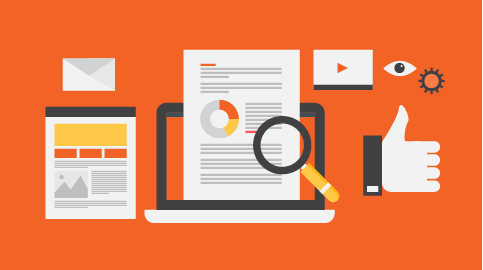 What is the Difference Between Email Marketing and Marketing Automation?
14 Nov 2017
What is the difference between Email Marketing and Marketing Automation?
Thousands of B2B companies just like yours use email marketing via providers like MailChimp. They use the for direct sales campaigns, building brand awareness, delivering promotions etc.
But how do you measure its success, and most importantly, quantify the ROI you get back?
What if there was a better way of measuring your success that saved time, providing a much clearer ROI, linked directly to your CRM?
New marketing technology could be the answer 
Today's savvy buyer wants and expects real-time answers to their questions and queries, and start with internet searches to find answers. Don't forget that the latest research confirms over 70% of the buying decision is made before any contact with your business.
So good quality content, delivered to an expectant buyer that wants to be educated and to learn from you, could increase your chances of winning over their trust – and the job.
Good quality content is the fuel that powers the most successful marketing campaigns these days, especially email marketing. And Marketing Automation is the best vehicle for delivering this to prospects to build lasting relationships.
Do you actually know how effective your email marketing is?
We have spent time analysing email service providers like market leader MailChimp, and compared its capabilities with Marketing Automation.
If you want to find out what we discovered, click here to download our 'What's the Difference' review.
So just what can Marketing Automation do and what benefits will you secure?
Seize back the power from your customer
In a nutshell, a MAP (Marketing Automation Platform) helps you go much further than email marketing:
1) Tracks 'opens'. Where leads have gone when clicked through, even to the extent of which pages they are looking at, and data they are downloading.
2) A MAP provides a lead score for each interaction that a visitor has with your website and stores it in its own CRM tool. This can also be integrated with third-party CRMs too.
3) Over time as data matures, you can see which leads are 'hot' and ripe for contact. The power really kicks in when you create sales funnel campaigns, so you drive a lead to become sales-ready.
And all the time, Marketing Automation tracks when a lead comes back to you. Giving you instant notifications, real-time reports and more. So you can refine the content you release, and overcome any objections that are raised.
Fuelling your sales efforts (in real-time)
Apart from integration with your existing CRM, you will be able to increase engagement by automatically segmenting audiences.  Into lists depending on their interests. So you are in a qualified position to deliver content that is of interest to them to influences their opinion.
You will also be able to send notifications to the sales team of a specific lead's interest level (based on their behaviour), by email or text and provide an illustrated timeline of all emails each contact has received. This puts your sales team in a much stronger and more powerful position.
Proving Email Marketing ROI
And when it comes to ROI, a MAP really scores. You will be able to prove a campaign's worth by analysing website behaviour reports, identifying a specific contact's position in the sales process via their lead score and monitor online and offline lead activity for comparison purposes.
So it's good news. Email marketing is still a valuable tool that can help facilitate a degree of business growth. But a MAP will help you to better engage with today's internet-enabled customer that wants and expects you to educate and inform them on issues and products that they are personally interested in.
Perfect is a SharpSpring Platinum Partner and experienced growth marketing agency. Specialising in sales lead generation, through Marketing Automation. If you find our blog interesting then please take 2 minutes to make contact, so you can start benefiting from our experience and ideas.