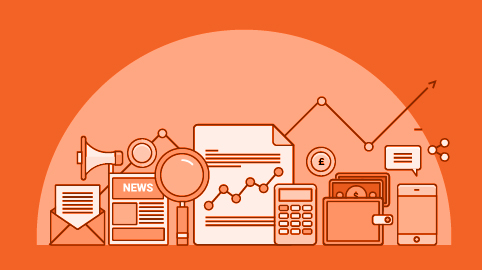 Marketing Automation Costs: We don't have the Budget
20 Nov 2017
Many businesses assume that Marketing Automation costs are high and not within reach. But they use an email service provider like MailChimp and spend £150 per month and they also have lead tracking services, like Lead Forensics, on their website at £200 per month!
But did you know that for a similar price you could have SharpSpring Marketing Automation? And it does the same jobs as the aforementioned plus much, much more!!
In this day and age, you need to get your marketing budget to go as far as you can. We get that if you haven't budgeted for something, then it might be a struggle to find additional funds for new marketing projects.
But wait a minute. Some things are worth moving the goalposts for.  Especially if they'll save you time, make your life easier and make your marketing/sales lead generation activities more successful.
How can you turn your back on 3 times as many sales-ready leads?
The fact is Marketing Automation is one of those techniques that deserves a chance. Marketing Automation costs can be affordable with some creative planning, slight adjustments and bold thinking.
Don't be afraid to talk to us about how you can afford Marketing Automation. Most of our SharpSpring customers pay just £350/pcm.
Today's shrewd marketing manager needs to be bold when it comes to marketing decisions.  They need to be prepared to innovate when it comes to deciding what stays, and what goes! So keep your eye on what is making your life easier, providing clear ROI and what isn't.
51% of B2B companies are now using automation in one form or another
The marketing automation industry is growing. That's because buyers have become increasingly in control of the purchasing process by using the internet to find, connect and buy from new suppliers. By 2020, customers will manage 85% of their relationships without talking to a human!
Successful businesses recognise that they need to adapt to remain competitive and are using Marketing Automation to build online relationships.
While outbound marketing is important, how it's used is set to change in the next few years. As online technology develops and businesses are waking up to the fact that they need to respond and adapt to the changing face of the marketing/sales landscape by personalising how they respond to their prospects and customers.
Monthly marketing automation costs is something most can afford
Unlike many of the leading MAP's (Marketing Automation Platforms), SharpSpring software does not require you to pay upfront for the annual subscription and it's charged monthly.
Without any substantial upfront costs, you can implement a MAP and start to generate more sales-ready prospects for your sales team to nurture through the sales funnel.
For as little as £4,200 annually, broken down into a reasonable monthly sum, you can quickly re-shape your business – and your future
We understand that marketing automation costs are a concern.
Arrange your discovery session below or pick up the phone and chat to us about how Marketing Automation can start working for you. And we'll do our best to make it an affordable decision.
Perfect is a SharpSpring Platinum Partner and experienced growth marketing agency. Specialising in sales lead generation, through Marketing Automation. If you find our blog interesting then please take 2 minutes to make contact, so you can start benefiting from our experience and ideas.