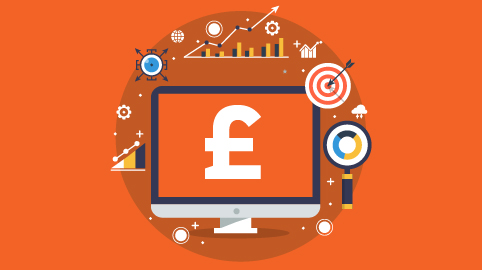 How Much Does Marketing Automation Cost?
14 Nov 2017
Just how much does Marketing Automation cost? Many businesses assume they cannot afford Marketing Automation costs. A typical annual cost for a SharpSpring software license is just £4,200+VAT.
Whilst some Marketing Automation costs are more expensive than others. SharpSpring is highly affordable and within reach. And is particularly effective in building relationships with prospects early on in the buying process.
We're confident that when we get a campaign running and working for you, it will cost very little. In fact, we're so confident that SharpSpring is reasonably priced that we've prepared a comparative summary.
If you want to compare providers download our price comparisons.
Just how much does Marketing Automation Cost?
For just £350/month+VAT (based on an annual contract of 12 months), Perfect customers can start benefiting. As a SharpSpring Platinum Partner we offer the same prices, as you would get direct from SharpSpring. But with the added benefit of local support based here in the UK.
With SharpSpring you can pay monthly, rather than on one upfront annual cost, which is a real bonus when it comes to managing your finances. We'll be there to help you set it up. And before you commit we will have advised you on how to make it work and generate new prospects for you to interact with.
There are absolutely no hidden costs or surprises just opportunities to generate more sales. Our pricing is on this website in black and white – with a splash of orange!
Content marketing is 62% less expensive than traditional marketing*
Think about all of the expense (cost and time) you last incurred when you attended a trade show, promoted a PR event, or posted out a direct mail promotion.
And did you manage to take the time to back track, to see if these activities generated more sales? Traditional marketing projects are costly and to get best value you need to track their ROI.
Marketing Automation is all about traceability – tracking when a lead first landed on your website. When, where they came from, what they did, what you made them do and how many times they've been back. 
And all the while scoring them to see how hot they actually are as a lead. Thus reducing costs by creating greater efficiencies and making best use of your budgets.
There's lots of data available to support the fact that you will secure and convert more leads with an investment in a MAP (Marketing Automation Platform), simply by giving customers what they want and when they want it.
With 90% of buyers saying that when they're ready they'll find you and over 70% of the buying process being done before any contact has been made with you, you need to work at building relationships, so prospects feel valued and understood.
By giving customers relevant content, without them even asking for it, you will gain their trust and confidence in your brand, and you will know how interested they are in your products and services – and then decide what you need to do, to make them sales-ready.
There is nothing expensive about SharpSpring automation – you can even spread the cost monthly
The point is Marketing Automation is responsive to present-day trends, is simple to get up and running, and boosts the number of sales-ready prospects you secure and convert. That's not expensive. We think that's affordable.
"With SharpSpring we now have complete visibility of our leads across multiple lists. We couldn't compile this as quickly, cheaply or easily without them. It's been a fantastic investment for us"
Marathon Belting
Perfect is a SharpSpring Platinum Partner and experienced growth marketing agency specialising in sales lead generation, through Marketing Automation. If you find our blog interesting then please take 2 minutes to make contact, so you can start benefiting from our experience and ideas.
Content Marketing Institute*