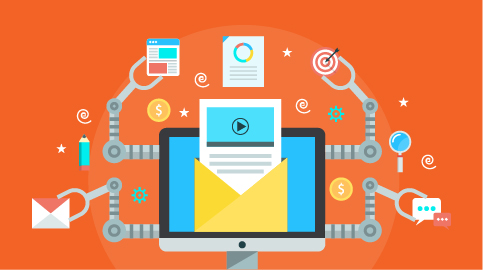 Marketing Automation Software – Is it Just Another Gimmick?
29 Jan 2018
Gimmicks come and go – but Marketing Automation software is here to stay.
Online marketing is advancing at a rapid pace. New gimmicks appear, get press exposure and then some stay and some go! It can be a real challenge to know where to invest time and resources.
Marketing Automation software deserves your attention. Why?
Because the internet is changing the way people buy. And customers now want and expect more from their suppliers, and buyers are using the internet to take complete control of the buying process.
In comparison to 2-3 years ago, 57% of prospects are less dependent on your sales team than they were. Why, because a website is probably answering many of their questions.  So if yours isn't then please use this article as an alarm bell that should encourage you to connect with your prospective buyers.
With buyers being much less dependent on salespeople during the decision-making process, B2B companies need to find ways to take back control. They need to find ways to track online visitors and instantly, ideally automatically, respond to their wants and needs. B0y providing them with valuable content that influences their opinions and actions.
A MAP (Marketing Automation Platform) is not a gimmick. It's a way of responding to buying behaviours and that's what makes it stand out.
Marketing Automation software lies behind your website and gathers useful intelligence about a prospect's online habits. This might include what they are looking at, how often they visit, what they are downloading, when they're on your site etc.
This information is tracked and recorded. The data can be segmented by buyers behaviour and prospects to nurtured, relationships built and so on.
When you know what a prospect is interested in, you can start to build trust and confidence in your brand. By becoming a key educator and trainer that releases valuable content that they both want and find of interest.
As prospects are led down the sales funnel, and you continue to nurture their interest and build a meaningful relationship with them, you are creating more and more sales-ready prospects for your sales team.
A raft of features that streamline marketing and sales processes
Automated software features are extremely sophisticated. It's not just about finding an email address, and then pushing out an automated emailer and blogs.
You can segment leads into those that are most likely to buy (through lead scoring), automate repetitive tasks saving time and money, and benefit from intelligent reporting, facilitating better management and prospect follow through.
So Marketing Automation is far from a gimmick, its now a way of life for most B2B companies.
Perfect is a SharpSpring Platinum Partner and Leading Customer Acquisition Agency. Specialising in Sales Lead Generation, through Marketing Automation. If you find our blog interesting then please take 2 minutes to make contact, so you can start benefiting from our experience and ideas.