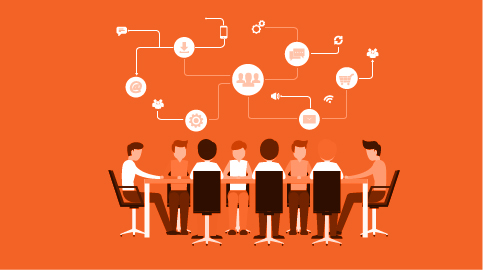 Sales and Marketing Automation: Empower your Sales Team
07 Dec 2017
A sales and Marketing Automation platform is not just a valuable marketing tool. It's also designed to enable your Sales Team to increase sales by providing them with more sales-ready leads. As well as prospect intelligence so they can connect with warmed up leads, rather than chasing vague hopes.
79% of marketing leads never convert into sales. Lack of lead nurturing is the common cause of this poor performance*
It goes further. It releases your sales team from repetitive follow-up calls and marketing tasks, so they can focus on closing. In the case of telesales investment, it also ensures that calling is limited to prospects that are ready for contact. And, of course, it helps your business (and sales team) to connect with buyers that are now using the internet to control the purchasing process.
Sales and Marketing Automation Tools 
With over 70% of the buying process complete by the time a prospect is ready to engage with you, your sales team needs to have access to the tools and intelligence that they need to influence what customers think and want.
It can take 7 to 13+ touches (or reminders) to generate sales-ready, qualified leads. Marketing Automation makes that a simple, manageable process.
With Marketing Automation, you can take the heavy lifting away from sales reps. By setting up email automations to increase the number of touches with each lead over the course of the sales journey. That means your reps can focus on converting leads as they are led down your sales funnel.
Simply put, marketing and sales work together to create valuable content and a sales funnel.
This means a lead will get the information they want. They're sent download options to read in their own time, provided with films to watch, pushed to web pages, etc.
And you can track and score these touch points, when a lead gets to a particular score, or takes action such as requesting a demo. At this point, your sales team can be notified automatically (by text or email) to make contact and close the sale.
Helps to nurture tailored (sales-ready) leads through the sales life cycle
While it might take weeks rather than days to convert your prospects into actual customers, it will happen. From the initial interest shown in your product/service, to the time a lead signs up to receive premium content, or attends a webinar, leads require touch points (or reminders) to lead them down the sales funnel. That can be a time-consuming task for your sales team that requires a clear focus.
Sales and Marketing Automation: Engaging leads at critical points
By automating tasks at key points in the buying funnel, and releasing workflows and content that responds to specific interests. Prospects are drawn closer to your business and your products, instilling trust and confidence.
Specific features designed to help your sales team perform
Using features like lead scoring that prevent your sales team from spending time on unqualified leads. And segmentation tools by industry, role or customer type, leads can be nurtured into sales-ready prospects, ripe for conversion.
Analysing data more accurately, quantifying ROI
When it comes to quantifying sales performance and/or marketing spend, it's important you have a handle on what works and what doesn't. With a MAP (Marketing Automation Platform) like SharpSpring, you will be in a position to make informed decisions. You will have access to a central CRM tool that stores extensive data helping you to quantify your marketing and sales performance.
These powerful metrics can be used in customised reports, to give you a broader insight into your ROI with specific marketing campaigns.
Perfect is a SharpSpring Platinum Partner and experienced Customer Acquisition Agency. Specialising in Sales Lead Generation, through Marketing Automation. If you find our blog interesting then please take 2 minutes to make contact, so you can start benefiting from our experience and ideas.
* Marketing Sherpha