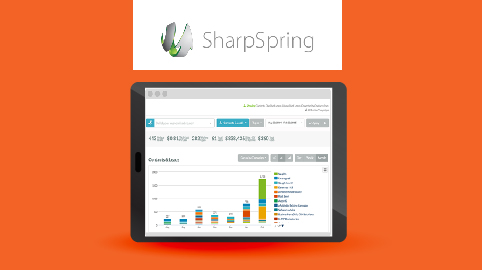 SharpSpring Marketing Automation: We've Never Heard it
20 Nov 2017
SharpSpring is a leading Marketing Automation platform used by B2B companies across the UK.
We're a bit more open than most growth Automation Marketing agencies. We are unafraid of putting our neck on the line when we believe in something. That's why we're happy to confirm that we think that SharpSpring marketing automation software is great value.
In simple terms, it's a powerful automation tool that's easy to use, highly affordable and extremely effective. Download our comparison tool to compare other brands and features.
An inexpensive technology that can achieve big things
It's a perfect fit for businesses that want to be more successful at generating sales-ready leads. But without hours of training, demos, onboarding and complex IT issues to overcome.
Do you want more from your marketing investment?
SharpSpring and Marketing Automation go hand in hand. Recognising that 'the buyer' is now much more powerful in the purchasing process. SharpSpring highlighted a need, found a solution, then designed a response.
How does it compare with other MAPs (Marketing Automation Platforms)?
Aside from the wider trust radius, capterra and G2 crowd ratings. SharpSpring is a technology that businesses trust to deliver. It compares very favourably with the likes of HubSpot, Marketo, Pardot and Infusionsoft – at a fraction of the cost.
So, in a nutshell……
SharpSpring is super simple to use, works alongside your existing systems (ie: CRM), is exceptionally powerful (packed with real-time features and functions), and is very affordable. SharpSpring is charged month on month and so there is no hefty annual subscription outlay.
Perfect is a SharpSpring Platinum Partner and experienced growth marketing agency specialising in sales lead generation, through Marketing Automation. If you find our blog interesting then please take 2 minutes to make contact, so you can start benefiting from our experience and ideas.