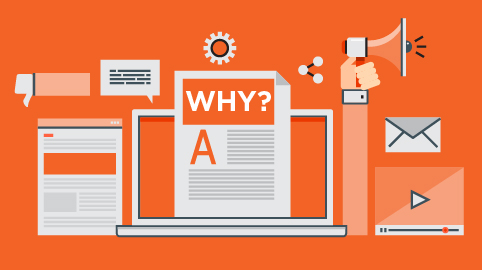 Why Use Marketing Automation for your Business?
14 Nov 2017
Why use Marketing Automation? One of the main reasons is that 70% of the buying process has happened before your prospects even pick up the phone!
Yes, that's absolutely true. Even before you say "hello", to your new lead, this 'prospect' has already used the internet to get valuable data about you and your competitors. To help them make more informed buying decisions.
Buyers will have probably read white papers, case studies, downloaded brochures, read blogs, and watched videos. So the burning question is: have you provided them with these? If not, it's unlikely that you have built an early relationship with them, and if you haven't, maybe your competitor has?
Why use Marketing Automation: The internet is changing things
And the way people buy is quite different. Just think about how you buy online.
You may not want to automate marketing, seeing it as a distraction or added expense. But at least find out why 51% of businesses are now opting to use a MAP (Marketing Automation Platform) without dismissing it.
You see buyers now want to find out about what you do and how you do it. Aswell as technical stuff like how things work, pricing, lead times, discounts, new product developments, how systems compare and more. And they are looking for you, not vice-versa.
According to a recent Business Products Buyer Survey, 80% of decision-makers now find their potential supplier. And 90% say that when they are ready they will come and find you. The point is it's no longer a sales-driven process. We now work and sell in a buyer-led environment.
Automate Marketing to put your sales team in a stronger position
Marketing Automation takes a buyer through to the consideration stage of the buying funnel. So you don't need an army of sales people when your marketing team is passing over warm, sales-ready leads to them. It's a much simpler and cheaper way of organising things.
78% of prospects believe that businesses providing customised content are interested in building relationships with them. Rather than just chasing a sale**
A MAP (Marketing Automation Platform) converts anonymous website visitors into prospects. It tracks their interests and leads them through the sales funnel. Providing regular, automated content via email and opportunities so that they can learn more about you. And start to trust in your opinion, products/services.
The digital landscape provides more scope for connecting with new age buyers
Don't think for one minute that it's going to take lots of money, time or investment to get going when you automate marketing. In fact, you will probably find that over a short period of time, your marketing spend decreases.
Content based marketing costs 62% less than traditional marketing*
Keep sight of the fact that if you're not responding to what buyers want, your competitors will probably move in.
The prospect of generating more sales-ready leads, at a fraction of the cost, is something that quite obviously interests B2B companies, quantified by the fact that 51% of businesses are now using a MAP.
Why use Marketing Automation: Give people what they want, aligned to their needs
With Automated Marketing, the risk of little or no ROI depletes. By tracking and profiling visitors, identifying their needs and giving them valuable content, you can connect on a level that they want and expect, and then start to build a relationship with them early on in the buying process.
The smartest marketers don't put all their eggs into a single basket. It's much better to diversify your efforts for the best results, so get creative with your marketing, and consider how a MAP can stimulate your future growth.
Perfect is a SharpSpring Platinum Partner and experienced growth marketing agency specialising in sales lead generation, through Marketing Automation. If you find our blog interesting then please take 2 minutes to make contact, so you can start benefiting from our experience and ideas.
* Content Marketing Institute
** Smart Insights